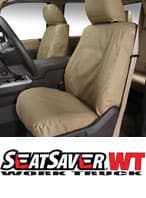 Custom-patterned Single Bucket Seat Covers for OTR/Air-Ride Seats. Work Truck seat covers help reduce fleet maintenance cost; the durable denim weight fabric is like "jeans for your seats". And available in  water-proof fabric!
Find Your Vehicle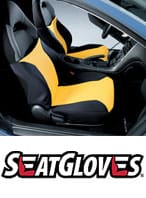 The seat cover designed for driving comfort, with spacer fabric in the seating area SeatGloves® are semi-custom with sizes for car and truck bucket seats. Covercraft seat protectors are easy-on/easy-off and are machine washable. Available in Blue, Gray, Red, Tan and Yellow
Find Your Vehicle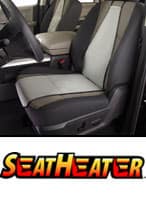 This kit works installed directly onto vehicle seats, or can be used with or without seat covers."Plug & Play" easy installation, powered by the vehicle accessory power outlet. They can be installed on both the front or rear seats (vehicle accessory power outlet required).
Find Your Vehicle
Seat covers can protect your seats from UV rays, spills, kids, pets, work, tools, entry/exit friction, food, sweat, and a never-ending list of everyday activities that wear out seats and can increase comfort. Seat covers help protect seats from daily abuse and weekend adventures – a good quality seat cover can help keep your seats looking new for years.